Councilmembers Instruct Departments to Accelerate Current 2050 Climate Goals By Two Decades to Beat Climate Scientists' Tipping Point Warnings
This week was officially Climate Week, and in these difficult times among worldwide catastrophic weather and wildfire conditions, every day is Earth Day and for the next decade every week will be Climate Week, officially or otherwise. Here in California while wild fires burn up and down the state, even reddening the sun in Los Angeles this week (more than 2.2 million acres have burned in 2021 so far), we cross our fingers and pray that the General Sherman and other giant and ancient trees in Sequoia National Park don't burn and that the worsening megadrought doesn't make the future bleak due to our lack of water supply.

Councilmember Koretz has been laying the groundwork for fighting these untenable conditions for many years and now it seems we have less than a decade to beat the odds by drastically reducing our greenhouse gas emissions.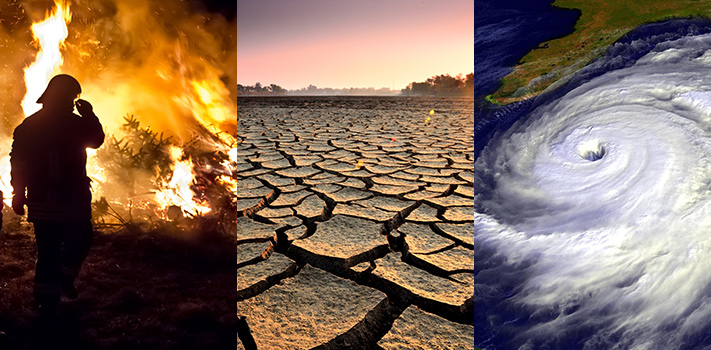 This week, Councilmember Koretz joined elected officials around the state calling on Governor Newsom to acknowledge the climate emergency as LA has by declaring "Climate Code Red for California," echoing the United Nations IPCC (Intergovernmental Panel on Climate Change) recent report described by UN leadership as "Code Red for Humanity." Councilmember Koretz was pleased to see that, the very same day, Governor Newsom earmarked a tremendous $15-billion toward climate resilience. The Councilmember has already introduced legislation directing City departments to tap into those funds.
For these reasons and more, Councilmembers Kevin de León (CD14) and Nithya Raman (CD4) joined Councilmember Koretz in co-presenting a motion directing the City's Climate Emergency Mobilization Office (CEMO) and other departments, in partnership with Neighborhood Councils, to drastically speed up the City's current 2050 carbon neutrality goals to meet climate scientists' warnings that 2030 is the deadline by which to avoid irreversible ecological tipping points. The motion, which also highlights the City's participation in the innovative new Cool City Challenge (CCC) initiative, seeks to engage Angelenos from every sector in citywide mitigations to achieve an aggressive moonshot goal of carbon neutrality by 2030. The CCC, developed and funded by the Empowerment Institute, is a neighborhood-by- neighborhood approach to hyper-local greenhouse gas emissions reductions, water conservation, and emergency preparedness. Piloted by the City as Cool Blocks in 2016-2017, the effort also reduces utility bills while building stronger community ties.
Supported by the Neighborhood Council Sustainability Alliance (NCSA) in partnership with CEMO, the CCC challenges California cities to develop the most innovative programs and recruit 200 Cool Block leaders in order to receive $1 million in funding to augment climate mitigation efforts and would thereby help protect the health, welfare, and habitability all Angelenos. The CCC will create bottom-up change from the demand side (consumers) and connect it to top-down change from the supply-side (business, technology, and policy adoption). The resultant community synergy can empower social, environmental, and economic outcomes not imagined possible. To learn more about the Cool City Challenge or to volunteer as a Cool Block leader, you can find details about info meetings at the NCSA website: https://www.ncsa.la/events.
"There's no doubt carbon neutrality by 2030 is an aspirational stretch goal," said Los Angeles City Councilmember Paul Koretz, who co-authored the motion. "But if we are to rise up to meet the greatest challenge ever faced by humankind -- in time -- we must look climate change square in the face, mobilize LA with equity and justice, neighborhood by neighborhood, sector by sector, and do what's necessary to keep our planet habitable and thriving. If that means making the impossible possible and the aspirational operational, so be it."
---

AIDS Healthcare Foundation Files Lawsuit That SB 10 is Unconstitutional
This week, Councilmember Koretz joined AIDS Healthcare Foundation and Housing Is a Human Right at a press conference to announce the filing of a lawsuit asserting that California Senate Bill 10, that was signed into law this month by Governor Newsom, violates the California constitutional right of initiative by allowing local elected officials to override zoning restrictions established by local initiative or disregard initiative measures put in place by the voters. The complaint, (Case No. 21STCP03149) challenges the constitutionality of a provision in the bill intended to streamline the process for cities to zone for multi-unit housing.
Councilmember Koretz has been working to daylight the dangers of SB 9 and 10 and was able to keep several versions of the bills from passing the State legislature and even led the City Council in providing overwhelming opposition. Even though surveys showed that 71% of voters opposed SB9 & 75% opposed SB10, both pieces of legislation eventually passed and were signed by the Governor last week -- but not before Councilmember Koretz sent a strongly-worded letter asking him to veto both bills, noting that the seriously
detrimental intrusion on local control these bills represent may very well upend the substantial work the City has undertaken to effectuate a voter-approved measure (Measure JJJ) to increase the City's stock of affordable housing.
The letter further points out the wide array of shortcomings both of the bills have in comparison to a variety of affordable housing programs that are in process in the City of Los Angeles as well as the myriad of negative environmental impacts the bills will have on the City if signed into law.
Please click here to read the letter in its entirety.
---

Civil + Human Rights and Equity Department Open New Offices Including John Lewis Conference Rooms
Councilmember Koretz joined his City official colleagues in cutting the ribbon on the brand new Civil + Human Rights and Equity Department offices across the street from City Hall in the LA Mall. The new facilities include a wonderful conference room dedicated to the late John Lewis, respectfully known as the Lion of Civil Rights, and will house the City's second equity-focused branch of local government [the first was Councilmember Koretz's Climate Emergency Mobilization Office (CEMO)]. The mission of the department is to focus on reducing bias and injustice in Los Angeles, and to partner in equity endeavors with city groups including the Human Relations Commission, the Commission on the Status of Women, and CEMO.
---

UCLA Sustainable LA Grand Challenge Focus on LA Wildlife Corridors


Last week, the UCLA Sustainable LA Grand Challenge held an online conversation on Los Angeles wildlife corridors and the pending draft wildlife ordinance, which is currently open for public comment.
Wildlife corridors connect areas of habitat and provide a vital pathway through human development that could otherwise impede biological life of all kinds. Over time, structures like buildings, roads and fences can be barriers to wildlife movement and survival as they fragment the habitat into smaller and smaller pieces.
In April 2020, the California Fish and Wildlife Commission found that it may be warranted to list mountain lions as threatened or endangered under the California Endangered Species Act (CESA) within a proposed evolutionarily significant unit (ESU) located in Southern California. This ESU includes the Santa Monica Mountains in Los Angeles and our famous Hollywood mountain lion, P-22. Under CESA, a candidate species is afforded the same protection as listed species and is CESA-protected during the ongoing review period. Other species of plants and animals in the same area may be similarly threatened if aggressive protective steps are not taken.
In July 2021, the UCLA Sustainable LA Grand Challenge released its Ecosystem Health Report Card for Los Angeles County, which dedicated a chapter to Land Use and Habitat Quality that covered habitat connectivity and fragmentation and corridor projects throughout the region. The report card found that only 57% of critical habitat corridors in the county are protected, and recommended policy to increase that protection to 100% to ensure no more extinction in one of the nation's only biodiversity hotspots.
The Los Angeles City Council, led by Councilmember Koretz, is leading efforts to protect these irreplaceable natural resources as they contemplate the city's first-ever pilot Wildlife Ordinance District, which is being developed to balance wildlife habitat and connectivity with private property development and residents in western Los Angeles, mainly within the Santa Monica Mountains between the 101 and 405 freeways.
Click here to watch the recorded panel discussion that included Councilmember Koretz, staff from the Los Angeles Planning Department and a panel of UCLA experts in environmental law, biodiversity, arts and architecture, and urban planning who provided insight and perspectives on the ordinance and its beneficial impacts, both on wildlife and Angelenos alike.


Increased LAPD Presence Along Melrose











This week Councilmember Koretz's Director of Public Safety walked a foot beat on Melrose Ave, along with LAPD Wilshire Division's Captain Monico. In addition, we coordinated a detail of the Street Use Investigators Team led by Senior Investigator Hernandez. Wilshire and Metro Division Officers were out in robust numbers, reassuring business owners and residents that safety remains our highest priority. Click here to read a letter that Councilmember Koretz sent to the Melrose community on this subject. Thank you to community members who continue to partner with us, as well.
---

Metro Alert: Piling on Wilshire Blvd between Westwood Blvd. and Gayley Ave.

Attention Westwood: Metro will continue the piling on the north side of Wilshire Blvd between Gayley Ave and Veteran Ave. The "piles" support the underground walls for the future Westwood/UCLA Station. The street will be restriped, and concrete "k-rail" barriers will be placed on Wilshire Blvd to protect the public outside of the work zones. Piling work will be completed in stages, and notices will be updated online each week. Traffic lanes reduction started yesterday, Friday, September 24.
More information is available at the Metro website including work hours and traffic control.
---

NORMS Encino Ribbon Cutting
It was a great time celebrating the grand opening of NORMS Restaurant in Encino. Even with several unforeseen setbacks and a pandemic, today's ribbon-cutting was a shared joy by all who made this opening possible. Councilmember Koretz and staff would also like to express sincerest appreciation to Linda Jenkins and all of the Encino Chamber Board Members for their tireless efforts to improve the quality of life of our community through advocacy, fellowship, and business development programs focusing on our Encino community.
Welcome to the Encino community NORMS Restaurant.
---

West Los Angeles Chamber of Commerce Meeting

Last week, Councilmember Koretz met with the West LA Chamber of Commerce at Mary & Robbs Cafe in Westwood to discuss City policy issues and ways to support the business community. He also honored the board members who voluntarily served our community during COVID-19, and presented a Certificate of Appreciation from the City of Los Angeles to each member. California State Treasurer Fiona Ma was also present to install the new officers for the chamber.

Volunteers Needed Westwood Connect Day - A Community Event for Our Unhoused Neighbors
Connect Days are community events that bring service providers, community partners, governmental agencies, and dedicated volunteers together so that individuals experiencing homelessness can be connected to an array of services simultaneously.

At our Westwood Connect Day on Tuesday, September 28th from 9:00 a.m. to 1:00 p.m., there will be housing resources, legal assistance, medical services, hygiene kits, showers, haircuts, clothing donations, and everyone will be provided both breakfast and lunch.

Volunteers will assist with setting up the event, working the check-in table, helping guests navigate the event, organizing and distributing donated items, and serving meals.
---

LAUSD Superintendent Search 2021


There are few things more important than the future of public education in Los Angeles, and the LA Board of Education needs your help. Angelenos have a unique opportunity to weigh in and share their voice as the Board of Education chooses the next Superintendent for the Los Angeles Unified School District.
All you need to do is spend three to four minutes of your time answering 21 easy questions. It is completely free, safe and anonymous—and all of our futures depend on it!
Find the survey link here: research.net/r/lausd_civic_leaders

---